Sharing the Baja experience with friends – it's a feeling we never want to leave behind. Which is why we brought it with us.
Our restaurants are inspired by the best of coastal Baja California: Warm, welcoming, friendly, inspired by old and new Mexican design. SOL's kitchens feature our unique spin on fresh, healthy, coastal Mexican food, lovingly made from scratch.
Meet the Heart of SOL
SOL Proprietorship
James Beard-nominated Mexican cookbook author, Chef Deborah Schneider partnered with Matt Baumayr and Rich Howland, and Prime Steak Concepts founders Mike Mastro, Jeff Mastro, Dennis Mastro and Scott Troilo, to open the first SOL Mexican Cocina in Newport Beach in 2009, introducing a new kind of inspired cooking with Mexican roots and California flair.
We now have locations in Newport Beach, California; Scottsdale, Arizona; Playa Vista, California; and Denver, Colorado.
"The SOL experience is not just about the food; we have a unique personality."
-Chef Deborah
Siempre Mejor
Creativity is Life
We aren't settling on what we are known for or what made us famous. Our SOL team is the cutting edge of innovative Mexican food and drinks, informed and inspired by our frequent trips to Mexico. We are always learning and growing. We bring it home to share with our guests at special events, like Mezcal Luv and Mole March, our twice-yearly menu changes, and a lively roster of seasonal specialty drinks.
It is our mission to share the taste of Baja with generations to come. We're committed to keeping our environment pristine.
Sustainability
Baja. Forever.
Whenever possible, we choose products and programs that are environmentally and socially pro-active. Our protein programs are sourced from domestic and international producers committed to environmentally sound practices, and we resolve to be as environmentally-friendly a restaurant as possible. And we always make sure that everything that can be recycled is recycled.
Even More Baja to Share
solita Tacos & Margaritas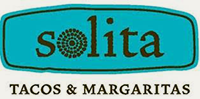 For another bite of the Baja, be sure to visit solita Tacos & Margaritas, created by the founders of SOL Mexican Cocina. With a menu inspired by the charro cooking of northern Mexico, solita Tacos & Margaritas showcases familiar Mexican fare, like burritos, tortas, enchiladas, taquitos and nachos, with items cooked on an oak-fired Santa Maria-style and served with our spicy house-made salsas. Come in for our hearty antojitos, such as rich Queso al Forno to spoon into warm tortillas, or our Grilled Corn Esquites, carved table-side.
Visit solita Tacos & Margaritas >