Cocktel De Mariscos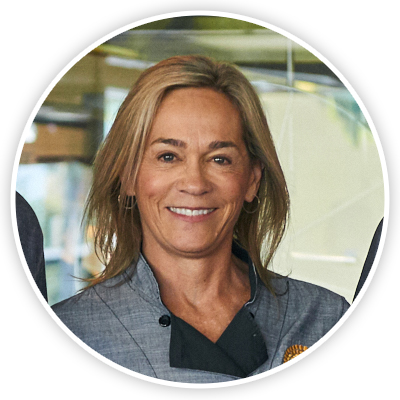 Deborah M. Schneider
Executive Chef  |  Partner  |  SOL Mexican Cocina
Recipe from ¡Baja! Cooking on the Edge
—
Refreshing and light, cockteles are immensely popular at street stands and puestos every where in Baja. Cocktel (not to be confused with ceviche) is something like a chunky gazpacho combined with lots of fresh, lightly cooked seafood: Shrimp, octopus, calamari, clams, crab, oysters, and periwinkle are the most popular, singly or campechana—some of everything.
The food is mixed with its own chilled cooking broth, a splash of tomato juice, and a heaping spoonful of diced cucumbers, red onions, and tomatoes, all topped with perfect avocado, lots of fresh-squeezed lime juice, and a few dashes of fiery hot sauce. On the side, gamesa crackers (Mexican saltines).
For some reason, cart cockteles tend to taste better than the ones I've had in restaurants. My advice: Eat early in the day—the better carts sell out and close up before the day gets hot.

Makes 8 servings as a light appetizer
•  About 4 cups Seven Seas Broth or water
•  Total of 4 cups prepared seafood (choose four of the following items to combine)
•  8 ounces small squid, cleaned and cut into rings
•  8 ounces best-quality small shrimp, preferably Mexican (peel after cooking)
•  1 cup cooked octopus cut into slices
•  3 large scallops, cut into quarters
•  8 ounces snow, stone, or Dungeness crab legs, shelled
•  8 ounces fish, free of skin and bone, cut into 1-inch pieces
•  8 ounces periwinkle, cleaned and cut into small pieces
•  8 ounces farmed abalone, cleaned and cut into small pieces
•  8 raw or cooked oysters
•  8 raw or cooked cherrystone clams
•  2 cups Pico de Gallo
•  1 cup peeled, diced cucumber
•  1⁄2 teaspoon kosher salt
•  1 cup freshly squeezed lime juice (about 6 large limes)
•  About 2 cups Clamato, tomato, or Snappy Tom juice 1⁄2 cup ketchup

To Serve
•  2 avocados, pitted, peeled, and cut into 3⁄4-inch dice
•  Lime wedges, preferably from Mexican limones
•  Salsa de Chiles de Arbol #1 or bottled hot sauce
•  Saltine crackers or Tostaditas
1. Bring the broth to a fast simmer in a large pot. Add the seafood and cook at a bare simmer for 3 to 5 minutes, or until just barely opaque. Remove from the heat and cool the seafood in the cooking liquid. Chill.
2. Drain the seafood, reserving the cooking liquid, and mix with the pico de gallo and cucumber. Add the salt, lime juice, Clamato juice, ketchup, and reserved cooking liquid. (Can be made ahead to this point and chilled.)
3. To serve, spoon into small glass bowls, footed sundae glasses, or martini glasses (if poolside, use clear plastic cups). Add lots of the juice.
Top with avocado. Serve immediately, with lime wedges, árbol sauce, and crisp, salty crackers.

Note: If using clams or oysters be sure to reserve their juices and add to your cocktel.
Variation: To make Cabo Coconut Cocktel, omit the Clamato juice and substitute 12-ounce can of coconut milk. Add 3 large serrano chiles (minced), 2 more tablespoons lime juice, and twice as much cilantro. Taste for salt; this variation needs to be spicy and well seasoned.